About TTI
Improving the bottom line for construction and agricultural equipment builders is easier with TTI's end-to-end proven expertise in helping organizations source top quality, lower-cost metal components.
Vehicles and machinery used within the construction and agriculture industries are subject to high degrees of stress and wear on their parts, thus requiring that their metal components be of the highest quality and integrity.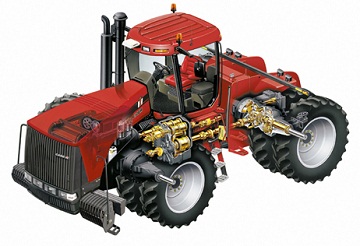 That's why TTI has been vigilant in developing a global network of proven manufacturing partners qualified to deliver a vast range of forged and machined metal parts, from driveline components to ground engagement products, made to withstand the unique demands of the construction and agricultural equipment industry.
TTI Offers the Whole Picture – Sourcing, Engineering and Logistics.
To meet the demands of businesses seeking to leverage the cost benefits of low-cost country sourcing, TTI has spent more than 25 years developing the relationships, skills and processes that make us a proven industry leader. We provide everything you need to successfully and simply outsource the manufacturing of your heavy-duty and high-wear metal components, while keeping costs down to maximize your products' competitiveness in the marketplace.
We streamline and simplify your sourcing by handling all the aspects, from part production planning to door-to-door international delivery – even scheduling timed deliveries on a JIT basis when required.
To learn more about the kinds of parts we've sourced for your industry, or to obtain a quote, contact the TTI team today.