About TTI
Let's work together to make your global sourcing strategy a success.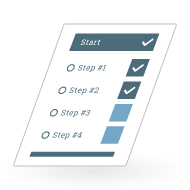 While every customer we work with is unique, we generally follow a standard set of steps that we've found best streamlines the process from quoting to production.
Following the receipt of an RFQ, our engagement process with a client is typically as follows:
1. Design Review
Our engineering team will work with our customers' product engineers to assess your product specifications and evaluate its manufacturability, finding opportunities to optimize production as needed.
2. Supplier Sourcing & Quoting
Once manufacturing parameters have been finalized, TTI will leverage our global supplier network to find the right match for your unique job. We'll effectively translate all product and quality requirements to the supplier so that an accurate quote can be developed.
3. Design Validation and Prototypes
If our quote is accepted, your product will be prototyped according to your particular industry's established standards (i.e., PPAP for automotive, First Article Inspection of oil & gas, etc.). TTI will work hand in hand with your project managers, engineers, and selected supplier to have these prototypes delivered to your exact specifications.
4. Customer Review and Testing
We'll provide the completed prototypes to your team for review and testing, along with our own inspection results and recommendations.
5. Approval and Production Orders
If you're pleased with the prototypes, we will move into the production phase, overseeing all manufacturing aspects through to product shipment, warehousing, and JIT delivery.
Are you ready to get started on your next outsourced project? Contact us today.