About TTI
Rely on our unmatched experience sourcing in low-cost countries.
As one of the first to realize the immense savings we could offer customers through low-cost country sourcing, TTI has spent more than 25 years building the invaluable network, skills and experience needed to make your global sourcing plan a guaranteed success.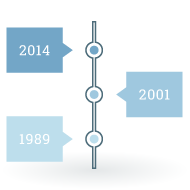 Founded in 1989 as a manufacturer's representative company selling special cutting tools to the metalworking industry, TTI Metals (formerly Tool Tec Inc.) has evolved into a fully integrated global provider of supply chain management services for the metal and metalworking industry.
We've Proven Our Ability Through Repeated Success.
We understand the ins and outs of doing business in low-cost countries, both from a technical and cultural perspective, and use this insight to remove the distance, language, and quality barriers that our customers would face on their own.
Our team has perfected proven processes for qualifying and developing suppliers, controlling quality, and effectively managing your global logistics program – all centered on removing your outsourcing risk with product made to your exact specifications, every time.
We've Developed a Unique Model Optimized to Our Customers' Needs.
Through the years, we saw the need that our customers had for an integrated sourcing, engineering and logistics system that would enable them to focus on their core business needs, while reducing the time and effort required for identifying qualified suppliers, ensuring quality, and efficiently moving and storing freight around the world. Our services today are tailored to do just that, and the savings we've been able to deliver as a result are unmatched.
TTI supports its supply chain management services through its headquarters in Wayne, PA and through regional offices in Celina, OH; Houston, TX; and Shanghai, China.